Hey!
Yes! You read that right!
I am very glad about this one!
Shabby Apple
, a online boutique for womens dresses (for those who don't know) asked me to giveaway the "
Hackney
" Pencil dress to one of you lucky people. Which I am happy and honored to do. The color of this dress is so gorgeous, the cut is truly unique and classy, with a slight touch of vintage glamour, I absolutely love it! I have to admit I wish I could participate in this giveaway.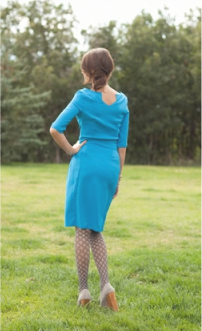 The dress comes in sizes XXS - XL check their size chart to see what size you would need!
Here is what you need to do to enter the giveaway:
Go to the Shabby Apple website and tell me what you your favorite item on the site is leave me a comment with a link to the item and please leave your E-mail address so that I can contact you if you win :)
I'm sorry but this giveaway is only for US readers :(
Giveaway Ends on Tuesday, March 27 at Midnight.
Good Luck to you all! :)
Over and out,
A_Riot