I am reviewing a great book that was written by my friend and a wonderful first time Author Rhea Krcmarova. The book is about a plus-size heroine who jumps into an analysis of single life adventures, gathering experience about relationships and love for herself and her body. The Book is only available in German but I am including a English review below if you are interested.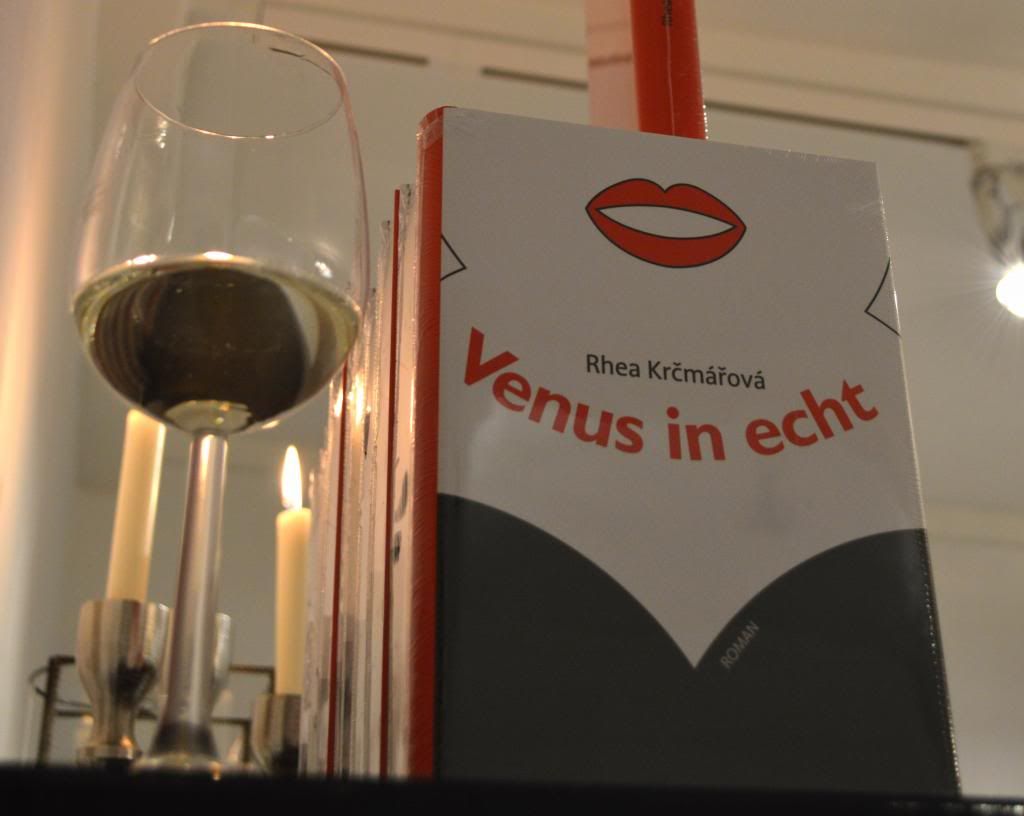 Venus in Echt
von Rhea Krcmarova
Rhea Krcmarova, die Autorin des Buches, hielt eine Lesung in der kleinen Plus-Size-Boutique "Stor" im 8. Wiener Bezirk. Zur Jubiläumsfeier des Geschäfts wurde Rhea als Gast des Abends eingeladen. Das Publikum war gemischt mit Menschen verschiedener Körpergrößen, von denen manche sich vielleicht nicht wirklich mit dem Thema "body positivity" beschäftigt haben, nicht weil es sie nicht interessiert, sondern weil sie sich vielleicht nie davon wirklich angesprochen fühlten. Ich war so gespannt auf die Reaktionen des Publikums. Rhea setzte sich hin, und fing an zu lesen, ein Kapitel, in dem sich die Protagonistin zum ersten mal im positivem Licht sieht, und ihren Körper im Spiegel bewundernd anschaut und studiert. Meine Augen rasten durch die Leute, die Leute genossen es, manche mit überraschter Gestik, so, als hätte die Idee sie erst jetzt erreicht, das dicke Frauen ihre Körper doch lieben konnen. Ich war so froh! und so stolz auf Rhea und ihr Buch. So ein Buch braucht man schon lange in Österreich, da das Thema "Körperzufriedenheit" hier irgendwie ein Tabu ist, vor allem bei dicken Frauen. Am Ende des Kapitels gab es einen großen Applaus für Rhea ,und alle schienen ein bisschen besser drauf zu sein, vielleicht lag es am Sekt, den tollen Snacks und Mode vom Stor, oder aber auch an der positiven Geschichte einer Plus-Size Frau, die ein neues, schönes Bild von sich entdeckt, in einem wunderbar geschrieben Roman.
Venus in Echt ist eine unglaublich, lustige, abenteuerliche und gleichzeitig seriöse Geschichte. In dem Buch kommen sehr viele Situationen vor, die man sich als dicke Frau sicher schon mal gedacht hat, oder als Frau überhaupt, das Tolle daran ist, dass das Buch nicht nur für dicke Frauen geschrieben ist, sondern für wirklich jeden, egal ob Frau oder Mann, dick oder dünn. Ich kann dieses Buch sehr stark weiterempfehlen! Und ich hoffe, dass sich einige von euch dieses Buch kaufen und weiterempfehlen.
Rhea hat auch einen Blog, in dem sie sich mit dem Thema beschäftigt und darüber schreibt:
Venus in Echt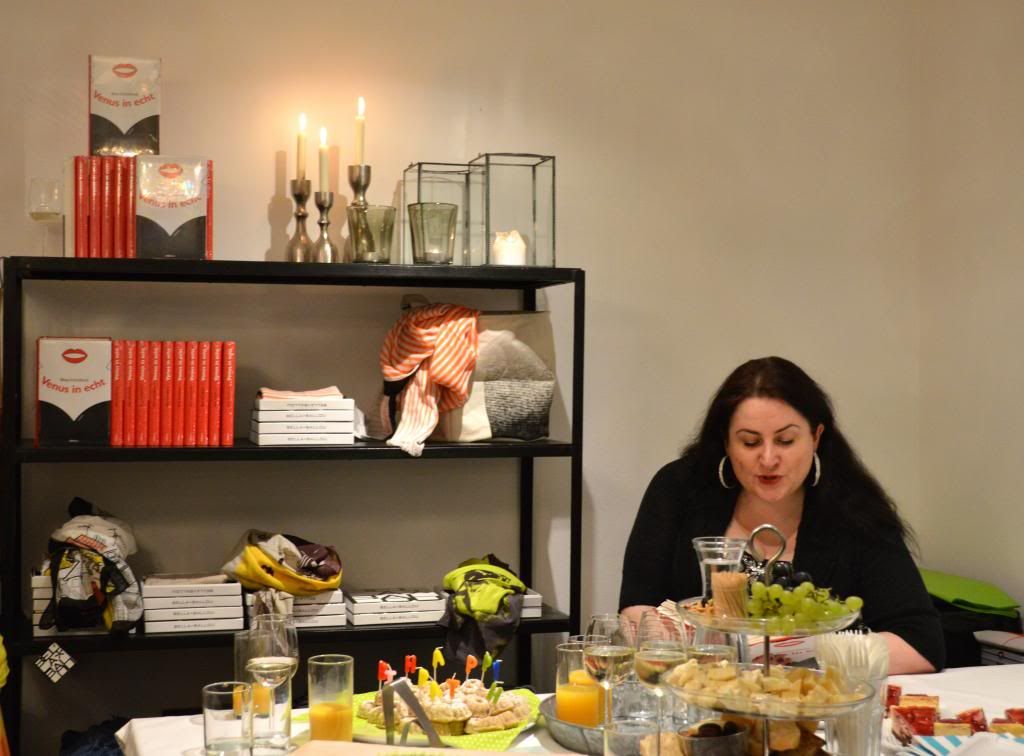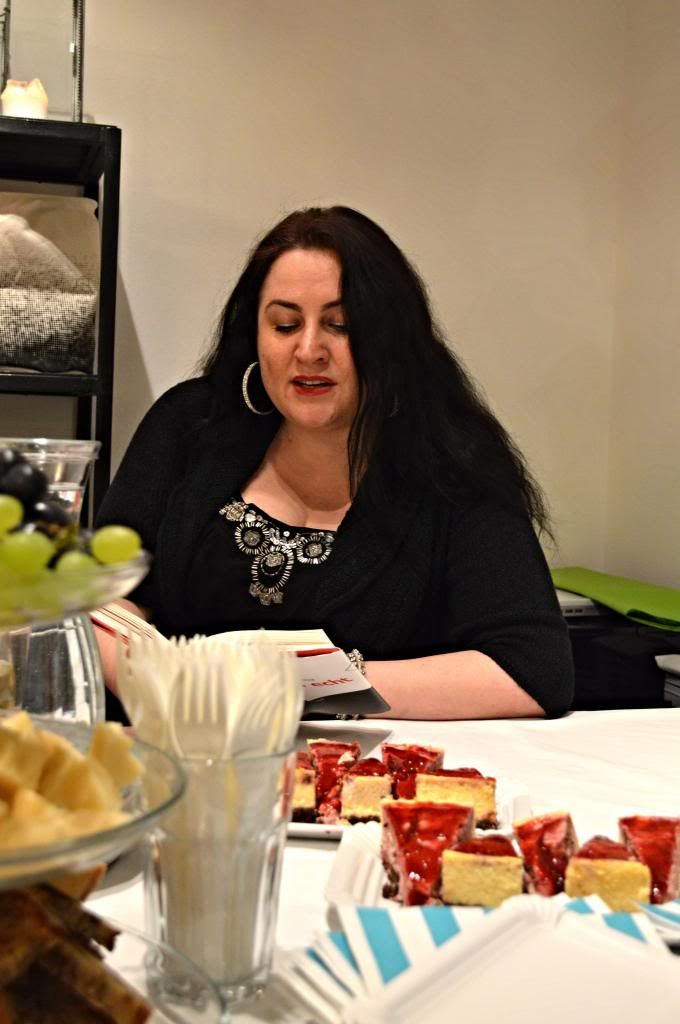 English:
Venus in Echt
by Rhea Krcmarova
The plus size boutique "
stor
" celebrated their one year anniversary recently, where my friend and first time author Rhea Krcmarova read from her book "Venus in Echt" translates to: Venus in real-life. Rhea was the guest of honor and I was very excited about the reading. The crowd was a mixture of people of all sizes, some of whom may have never been aquainted with the "body positivity" subject. Not neccessarily because it doesn't interest them, but because they may have never had to deal with it, so I really wanted to see peoples reactions to the book, as I had already read it and know that it is all kinds of body Positive awesomeness. Rhea was introduced, sat down and started reading. The Chapter she read from was one where the protagonist starts noticing the beautiful traits of her body while standing infront of a mirror admiring herself, my eyes scanned through the crowd. The people were enjoying it! smiles on their faces, some with surprised facial expressions, as if the idea of a fat woman feeling content with her body being a "thing" just hit them for the first time. I was so happy and proud of Rhea. A book like this is really important in the Austrian culture, because the subject "body satisfaction" is kind of a taboo here, especially with fat women, and books like these are rare in the German language. At the end of the chapter Rhea got a huge applause from the crowd who all seemed to be in a great mood, maybe it was the sparkling wine, the tasty snacks, the fashion in the "stor" or maybe, just maybe it was because of the Positive story of a Fat woman, who found a new and beautiful way of looking and appreciating her body in a wonderfully written Novel.
The Book is a great, funny, adventurous and serious book all at the same time. There are a lot of situations in the book that come close to home, so to speak, being a fat woman, or a woman of any size really. That is the great thing about this book, it is a great story for anyone no matter what gender or size you are. This book is currently only available in German, but Rhea is hoping to have it translated into the English language soon. So if you know anyone who would like this book and also speaks German, then please share it! I absolutely recommend it!
Rhea also has a Blog in which she further engages her self within the topic of Body Positivity:
Venus in Echt
And as always, Thanks for stopping by!
xx
Anita