I'm just going to jump into this post, not literally, that would break my computer.
My schedule has been insane lately, and it will most likely stay that way until the end of this semester. I've been a super slacker at the university for the past three semesters and I thought I've got to get my stuff together. So I signed up for a bunch of classes resulting in me being at the University every single day! Saturdays I work so my only free day is sunday. I'm not complaining! Just so that's clear, I like going to class, makes me feel smurt! Ofcourse my blog is getting less attention, but I do try doing as much as I can whenever I can. I still read all of your lovely blogs, I just don't have the time to comment on all of them :( but I do comment whenever I get the time! so watch out for that! :)
I wanna thank everyone who has been patient with the posts, still showing love, support and comments. It is very appreciated and noted down. I know who you are and I am returning the favor ASAP! Thank you!
cables in the back are cool, you don't even know.....you don't even know!
In other news! While I was at work this saturday, I went up to some customers and asked if I could help them find something. After having a brief chit chat about whatever they were wondering about, she (customer) said she recognized me from my blog and asked about it! That was so awesome and cool! I had no idea what to say, it took me by surprise, I've never been recognized from my blog before. I was really happy that people actually read my blog but totally speechless as to how to carry on the conversation! I just hoplessly muttered "wow cool, thanks" with a stupid grin on my face. So to the awesome girl who came up to me, Thanks! You rule! you made my day! and I'm sorry for probably being lame and speechless! haha ;)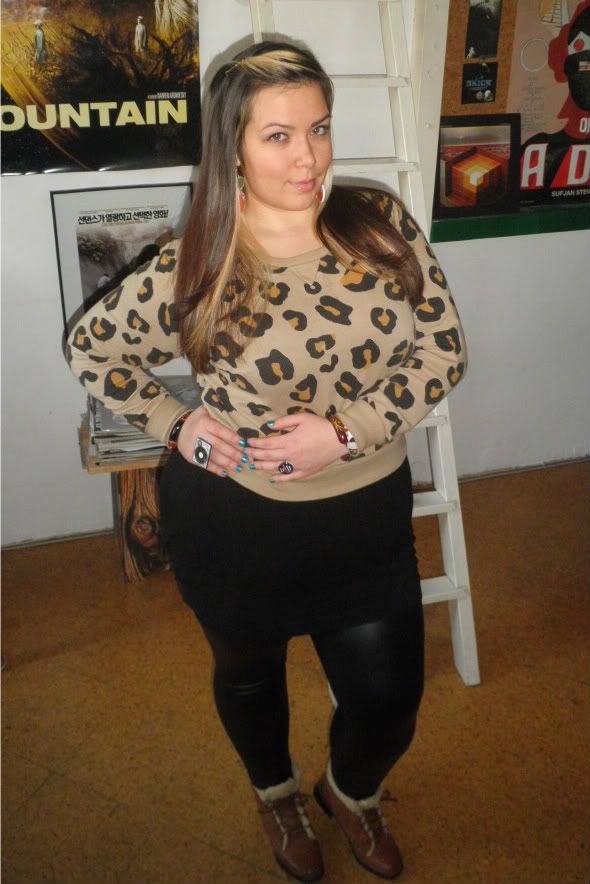 I also wanted to share this outfit while it's still semi-chilly outside. I took these pictures a few weeks ago and just never got around to posting them. I'm finally wearing pleather leggins! Yay fat chick in pleather leggins, mini skirt and a short sweatshirt! Put that in your pipe and smoke it, fat haters!
leggings: h&m, sweater: F21, booties:Zara, turntable ring & cherry earrings: 280 urban art, bacon ring:fat girl arts
over and out,
Anita